Um während der CD-Produktion unter macOS die CDTEXT Info der Master CDs zu kontrollieren, gibt es keine wirklich komfortable Lösung. Man hat die Wahl zwischen der  kryptischen Ausgabe von drutil, dem Umweg über ein iTunes Plugin oder noch umständlicher mit Hilfe diverser CDTEXT Reader unter Windows (Parallels oder VMWare Fusion).
macOS: CDTEXT per Kommandozeile lesen
Das folgende Script löst das Problem elegant: Die CDTEXT-Daten werden sehr schnell ausgelesen und übersichtlich präsentiert:
#!/usr/local/bin/python
# -*- coding: utf-8 -*-
#
# cdtxt 1.0.0
#
# Read CDTEXT info of the inserted CD.
#
# (c)2017 Harald Schneider
#

import plistlib
import subprocess

try:
    out = subprocess.check_output('drutil cdtext', shell=True)
    d = plistlib.readPlistFromString(out)
except:
    print out
    exit(0)

try:
    i = 0
    for t in d[0]['Tracks']:
        if i > 0:
            print "\t",
        try:
            print t['DRCDTextTitleKey']
        except:
            pass
        i = i+1
except:
    print "NO CDTEXT AVAILABLE!\n"
Beispiel-Ausgabe einer CD mit CDTEXT: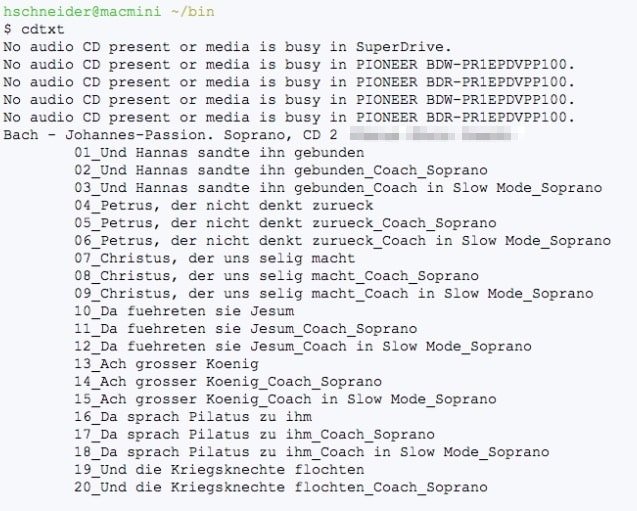 Viel Spass damit! :-)